Overview | Galeterone (TOK-001) | ARMOR
About Resistant Prostate Cancer
Every year, over 240,000 men are diagnosed with prostate cancer. According to the American Cancer Society, prostate cancer is the most frequently diagnosed cancer among men in the United States and is the second leading cause of cancer related death in this group.
Prostate cancer tumors are unique in that their growth is fueled by androgens, or male sex hormones, which are produced mainly in the testes. Current therapies designed to reduce androgens by medical or surgical castration can be effective initially in controlling prostate cancer, but resistance to these therapies usually occurs, rendering them ineffective after several years. Resistant prostate cancer, also known as castration resistant prostate cancer (CRPC) or hormone refractory prostate cancer (HRPC), is an advanced form of prostate cancer that occurs when the disease progresses despite the use of first-line prostate cancer treatment.
It is estimated that there are 60,000 new cases of resistant prostate cancer and more than 28,000 prostate cancer-related deaths in the United States annually. New therapies are needed to specifically address the multiple mechanisms that allow prostate cancer cells to grow and become resistant. Galeterone (TOK-001) is the only compound in development that combines three distinct mechanisms of action for the treatment of resistant prostate cancer.
About Galeterone (TOK-001): Three Distinct Mechanisms of Action
Galeterone is a proprietary small molecule, oral drug for the treatment of CRPC that disrupts androgen receptor (AR) signaling, the key driver of CRPC, via a novel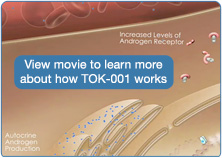 triple mechanism of action. Galeterone selectively inhibits CYP17 lyase to prevent testosterone synthesis, antagonizes testosterone binding to the AR and degrades the AR protein.
CRPC cells become resistant to therapy by developing alternative mechanisms for satisfying their androgen requirement. CRPC cells:
Synthesize their own androgens
Rely on low-level androgens secreted by the adrenal glands
Increase the number of androgen receptors they contain, becoming more androgen responsive
Tokai is currently evaluating galeterone in a Phase 2 study, ARMOR2, in patients with CRPC as part of the ARMOR clinical development program for galeterone. Data from a Phase 1 proof-of-concept study, ARMOR1, presented at the AACR Annual Meeting 2012 and the 2012 ASCO Annual Meeting showed that galeterone was well-tolerated with minimal side effects and demonstrated clinical activity in patients with CRPC.